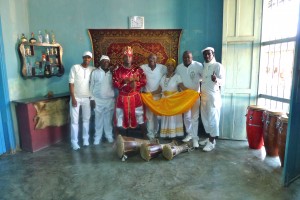 Lucumi Oñi Tour 2012
Lucumi Oñi is world-class Afro-Cuban folklore.
The members of the group have long careers in groups like Conjunto Folklorico Nacional de Cuba, Coro Folklorico National de Cuba og Tropicana. They are all great artistic and cultural talents. They are the Buena Vista Social Club of Afro-Cuban folklore music and dancing.
Musicians:
Ignacio Guerra Acosta: percussion, chorus
Julio Guerra Acosta: percussion, chorus
Florentino "Coco" Acosta Rabanza: percussion, chorus
Noel Guerra; percussion, chorus
Boris Venencio Reyes Montalvo: folklore singer
Dancers:
Domingo Pau
Miriam Izquierdo
Shows by Lucumí Oñi
Two sets of 45 minutes each
Yoruba
The most widespread religion in Cuba is Santeria, which is a fusion of Catholicism and ancient African animism from the Yoruba people in West Africa. This faith is practiced in churches as well as in Cuban homes. At the ceremonies the differente gods (orishas) are worshipped in the form of music, dance and song. Musicians initiated into the religion play the consecrated batá drums and with the singer they evoke the orishas.
At the beginning of Lucumí Oñi´s performance the god Elegguá, who is the messenger between Heaven an Earth and ruler of destiny, dances and opens the road for both people and gods. Next the god Oggún appears, the lonely warrior and ruler of metal and swords. He fights his way through jungle and scrub and is always on guard. He is followed by Yemayá, the goddess of motherhood, whose dance emulates the sea, whether calm or troubled. Finally the gods have a guemilere, a party of the gods.
Congo (Bantú) is the name of a number of rhythms and dances connected with the religion Palo Monte. It is a mixture of spiritualism and African animism.
Abakuá is the secret society for men only, with alluring rhythms and scary devil dancing.
Rumba, yambu, columiba er rhythms, dances and songs that arose in Cuban harbours. They are played on congas, cahones and catá with song in Spanish. The texts are improvised and the choruses spontaneous. Rumba is played at various occasions, from funerals to spiritual contexts, at parties and at births. The rumba dancing challenges the relationship between women and men, and in the bubbling columbia the men challenge each other in a contest of speed and agility.
Conga – the Cuban music for carnivals that invites everybody to dance.
Videos with Lucumí Oñi, January 2012:
Columbia: http://youtu.be/QDQ1SWn4pI0
Rumba: http://www.youtube.com/watch?v=Jr_sCbnfQyE
Yoruba: Chango: http://youtu.be/ef2Ls5ZDkEU
Yoruba: Ochún: http://www.youtube.com/watch?v=L6UCLKvgTHw 
Yoruba: Ochun og Chango: http://youtu.be/1htTfjl5cQc
Afro-Cuban dances and the popular dances like salsa, son, chachacha, mambo etc.
Afro-Cuban songs, yoruba, bantú and rumba.
Percussion: yoruba rhythms on batá, rumba, yambu, columbia on congas etc.
High-quality classes for participants on all levels from children and young people to master classes for professional dancers and musicians, and lectures about Afro-Cuban culture.
Lucumí Oñi will be in Denmark from August 24 to early October 2012
Bagground
The Cuban percussionist Ignacio Guerra Acosta came to Denmark in 1994 when he participated in a large Danish-Cuban project: Elegguá and the Three Queens. Ignacio inspired the budding interest in the Afro-Cuban tradtions in Copenhagen, which later evolved into a milieu centered around the rehearsal studios Aben and later Hullet where many of the artists participating in the current project met, inspired each other and practiced the Afro-Cuban music in jam sessions, which evolved into more projects. Among these were Aché, Okantomi, People, and Jakob Dinesen's latest album: Dino's Afro-Cuban Dreams.